Whenever there's party, I love to bring jelly. Probably because for the longest time I didn't have a stand mixer, so there's not much dessert that I could make except for fruit skewers and jellies. But even after I got a stand mixer, I still make more jellies than cakes.
Due to the fact that I'm rather health conscious, I prefer to include some fruits or herbs in my dessert especially if the dessert is made out of wheat and sugar. Whenever I can, I choose dessert made from nutritious ingredients like black glutinous rice in bubur pulut hitam or agar-agar to make jellies. Do you know that agar-agar came from algae? Normally, I like to make konnyaku jelly like osmanthus jelly with goji berries.
I also really like the taste of jelly from pasar ramadan – those made with gula melaka and santan (coconut milk). Perhaps I especially like it because it's like a treat to me and reminds me of one of my favourite festivals.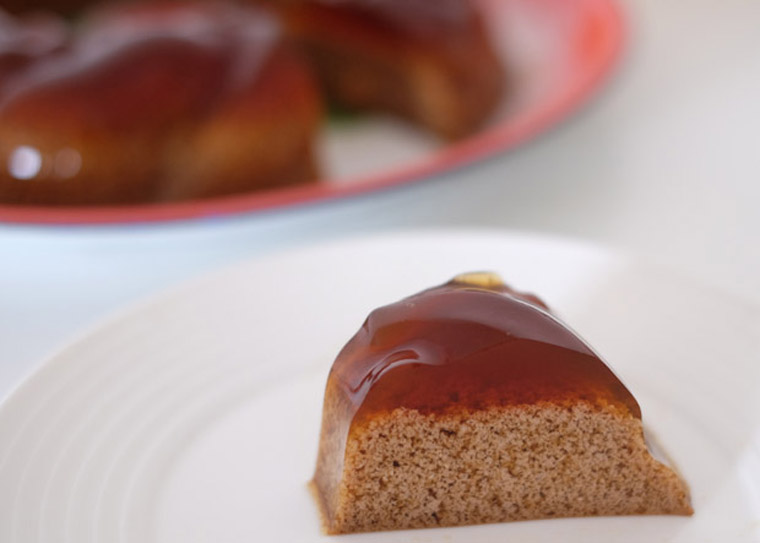 Gula melaka (palm sugar) and santan (coconut milk) both carries distinct taste and immense fragrance incomparable to regular sugar and milk. Combined with pandan leaves, the taste and aroma is heavenly. This particular dessert, when made properly, will separate into two beautiful layers – a clear caramel-coloured top and cloudier light brown bottom.
Recently, I learned to make it at home with a beautiful vintage jelly mould. Aunty Mani who is very good at making Malay cuisine, taught me how and gave the vintage mould to me and I was ecstatic (I love old kitchenware!). She often make jelly for family gatherings too. This recipe is one of those I've tasted and loved.
---
Active time: 20 minutes
Total time: 6 hours 20 minutes
Makes: 1 L jelly/ Serves up to 35 people
INGREDIENTS
Agar-agar powder (10 g) x 1
Water x 1 L (4 cups)
Gula melaka x 250 g
Coconut milk x 200 g
Egg whisked x 1
Salt x 1 pinch
Pandan leaves, washed and tied into knot x 4
---
TOOLS
Jelly mould / baking tray
Pot + spatula
Bowl and fork (to whisk egg)