Want to 'wow 'your family with something sweet, beautiful and auspicious this Chinese New Year? Try making Koi Fish Jelly! As the weather is normally extremely hot in Malaysia during this season, I assure you that this dessert will be more popular than the regular pineapple tarts or mandarin oranges.
Another reason why you want to make this dessert. There's a Chinese proverb that goes 'nian nian you yu' (年年有余) which means having things in surplus every year. As 'yu'/ surplus sounds like 'fish', which symbolizes wealth and prosperity, the Chinese loves to serve fish on Chinese New Year. With this recipe, you can have fish for dessert too ;)
I absolutely enjoy making this jelly. Seeing how the fish come to life is so satisfying. It's like magic! I'm not sure if the best part is seeing the wonder in the eyes of those who try it for the first time, or feeling like an accomplished artist who just sculpted something very beautiful.
---
SHORT IDEA
To make a jelly life-like, what we do is give it a little pattern and a pair of eyes. To create red and yellow patterns on the fish, we use yellow and red food dye. For the eyes, we use raisins. You will need a special tool (fish mould) and a few other things that are easily available at the neighbourhood bakery supplies shop.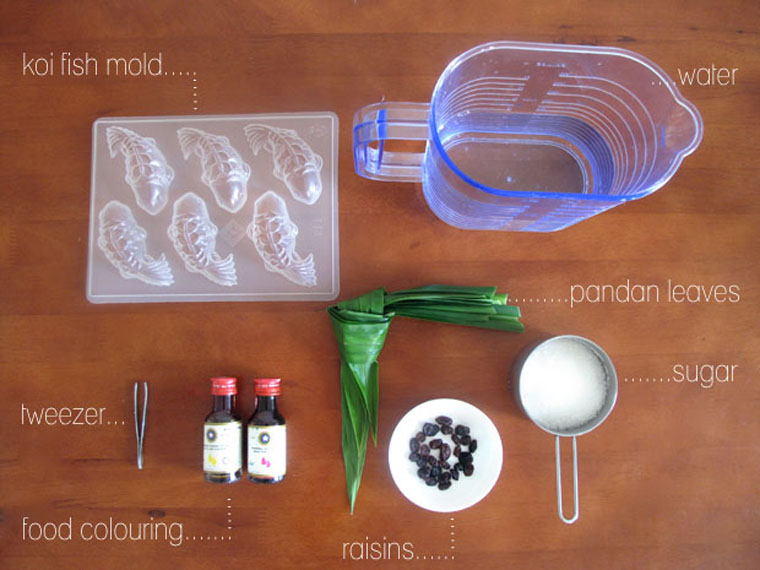 ---
TOOLS
Koi fish mould
Tweezer
Scissors
Pot + stove
---
TUTORIAL