If soup is my comfort food, curry is a treat. Soup soothes my soul, but curry stirs excitement. What kind of spices is in the curry? Are there potatoes in it? Will it be too spicy? The thing with curries is that you'll never know until you take a bite.
I have long search for a simple and satisfying curry recipe. I've tried many chicken curries – Southern Indian curry with spices like cinnamon and curry with lemongrass for example – but somehow I never make them much. Then I found this Punjabi-style chicken curry and been making it rather often.
It's the easiest chicken curry that I've cooked – so I don't feel overwhelmed with all the spices and steps. The only three spices involved are: curry powder, coriander powder, and cumin powder. Besides, the curry is much milder – not too hot or spicy. I like to enjoy my curry without hissing from (over) generous amount of chillies.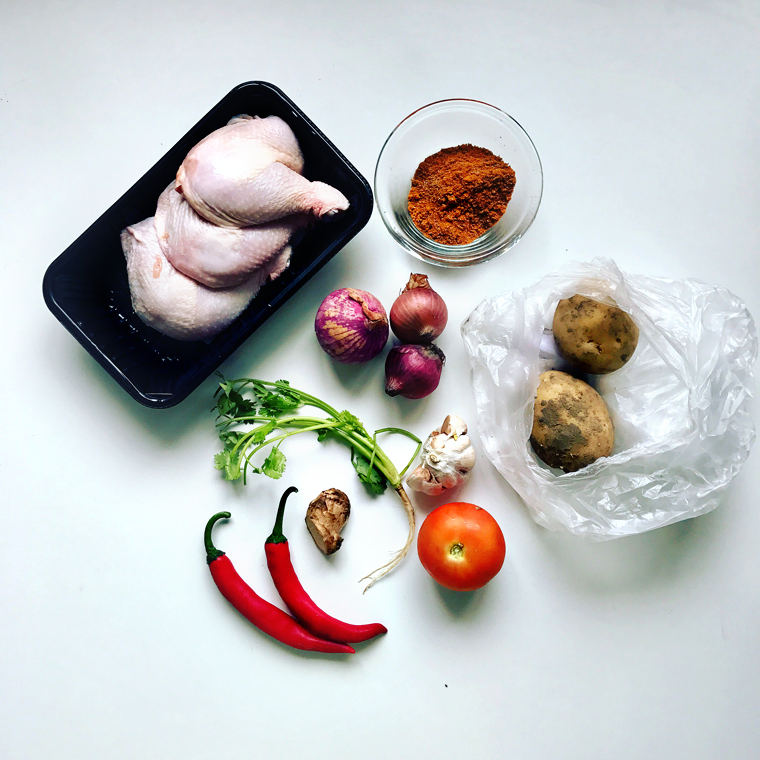 This recipe is from Aunty Gucci, a Punjabi teacher who claims that she doesn't like to cook, but makes delicious chapati and curry effortlessly. Maybe because of the fact that she doesn't complicated meals that her recipe is easy to follow. Instead of using coconut milk (which you can't keep for long), she uses coconut cream powder instead. How clever!
If you like to make a pot of chicken curry that is easy, not too spicy, and delicious, this recipe is for you.
---
TOOLS
Pot/Wok with lid
Blender
Chopping board + knives + peeler
---
INGREDIENTS
Curry paste
3 – 5 (150 g) big shallots
10 cloves garlic
1 inch (15 g) ginger
2(40 g) red chili, large
1 sprig ( 6 g) Coriander
1 (120 g) Tomato, big
2 tbsp Curry powder
1 1/2 tbsp Coriander powder
1/2 tbsp Cumin powder
Others
1/2 cup oil
A handful of curry leaves
2 Chicken legs
2 Potatoes, large
2 cups Water
2 tbsp Coconut cream powder
Salt to taste (about 1 1/2tsp)
INSTRUCTIONS & FULL RECIPE AT NEW MALAYSIAN KITCHEN